Posted by Toy Lady in Big Lug, Home, meal plan monday, Musings.
comments closed
It's been a quiet week around here for all of us.  Cold, too.  Though really, it's February – the dog days of winter – so honestly, what do we expect?
This is hibernating season – even the Jar knows that!  These days, more often than not, he spends most of his waking hours (and not-so-waking hours!) curled up in his bed, and he's often more than happy to be tucked in, too.
Who's his Mama's boy?
I've finished my holiday knitting, so right now I'm working on some recreational knitting.  Basically, that means more socks, but for myself this time!
Funny story . . .
When I was preparing to start a new pair of socks, I went through some patterns, looking for Just the Right One – like I always do
There was one pattern I almost chose – it had this fancy detail on the heel.
I pointed out the HEEL to Peeps, asked him just LOOK at the HEEL.  Isn't that HEEL pretty?
Poor Jarly – he couldn't seem to figure why, while sitting on the couch, I kept telling him to HEEL!
To his credit, he did actually consider getting up!  I'd say he's been doing pretty well in his training, huh?
So I guess the socks with the fancy H-E-E-L-S will have to wait a bit.
I guess it's all Jarly all the time this week!
I'm not sure if I've ever mentioned Jar's affinity for fire trucks.  He does love to sing along.
And once again, it's time for the weekly menu plan.  We've still got the winter weather advisories going on this week – gosh it just seems like this winter is dragging on, doesn't it?  However, I remind myself that February's the shortest month. Before we know it, we'll be running out of time for the roasts and braises and stews. . .
Monday -  I'm going to confess – I am a sucker for a chicken on sale.  We have whole chickens – even a turkey – in the freezer, but whenever I see them on sale, I just can't resist. We're roasting a chicken, along with some fingerling potatoes – take that, February!  Add in some frozen green beans from the garden, and we'll be very happy!
Tuesday - Remember how last week I roasted some brussels sprouts?  Boy were they good!  However, Peeps is not the sprout fan that I am, so we made up some Dijon mustard butter for him- and had some leftover.  Rather than let that go to waste, we're going to cook some salmon in it.  Mmmm. . .salmon with mustard butter!  I've got some fresh spinach which will be good, and I'm thinking some grilled corn out of the freezer.
Wednesday - Not to let soup night get away from us, Peeps has been wanting a nice, warm potato soup with a bit of ham.  I think a potato soup with cheese would be nice, so I'm pretty sure we can figure out something that will please both of us, don' you think?

Thursday - Since we're roasting a big old chicken earlier in the week, I'm thinking little individual chicken pot pies would be fun.  In fact, I'm leaning  toward Moravian chicken pie – in personal size.  How cute!
Friday - Peeps's mom will be joining us for pizza night - it's good for her to get out of the house, and, of course, it's always nice for all of us to spend the evening in front of the TV enjoying our pizza!
Be sure to click on over to The Organizing Junkie's Monday Menu Plan post for loads and loads of other ideas.
Posted by Toy Lady in Big Lug, canning, meal plan monday, Musings, random stuff, Stupor Kitty.
Tags: monday meal plan
comments closed
Well, the garden is pretty much tucked in for the fall.  It's kind of a sad day, isn't it?  They were forecasting a "killing frost" for Friday night, which, apparently didn't happen.  Or maybe it did – it's hard to tell.  Peeps had frost on the top of his car Saturday morning, but not on the windshield.  And the late row of green beans seems to be unscathed, yet of two baby "volunteer"  tomato plants I found, one was brown and shriveled (frosted for sure!) and the other, just inches away from it, was at least partially sheltered by ridiculous kale leaves, was as good as new.  (Until I pulled it up.)
Our one row of garlic is in, the kale will be good until . . . whenever it gets used, and the komatsuna should be okay at least as long.
So we were out shopping this weekend, and Peeps pointed out that we didn't have anything sweet in the house.
Now, while that is probably a good thing in the long run, we've grown to enjoy something dessert-like in the evenings, without actually committing to, say, baking anything.
We came across this new candy – it's called Unreal.  The idea is that it's better for you than "regular" candy in that it's got more real ingredients and NONE of the objectionable ingredients – no corn syrup, no artificial colors or flavors, no hydrogenated oils, and no GMOs.
Basically, it's hippy candy.  But it's really, really good hippy candy.  If you see it available, do give it a try.  Really.  You'll thank me.
So we've been working on Puppy-Kitty Tolerance – and boy, is that fun!
Basically, after I get back from our morning walk, the dog gets fed, and the cat gets a little one-on-one treat time with me.
Then, when the dog's done with his breakfast, he comes out to the kitchen and lies down next to me while the cat skitters away.
However, the magic of chicken, pork and hot dogs will lure her back, even to within a tongue's length of the Big Scary Dog that she goes out of her way to annoy.
The two of them take turns having treats, and I've been getting them closer and closer together.  I even got Peeps to play along!
Besides the whole treat thing, the two of them are becoming ever-so-slightly more tolerant of each other – the Kitty will come out and prance around the the living room and dining room, and the dog will pretty much ignore her as long as she doesn't start whining to be fed.
It's something. . .
Poor Jar – every time I set up his pills, I marvel at just how much "stuff" he's on!
Mostly it's because of his joints – he's on MSM supplements (from the horse aisle) and glucosamine supplements twice a day, plus the meloxicam (his miracle drug) once, and antacids with it because it tends to cause nausea.
And he's still on the Prozac, too – we've actually increased it a bit, so now he gets the big pill in the morning and the smaller on in the evening.
I feel like a pharmacist sometimes. . .
Oh, exciting news!
For the very first time EVER I canned a batch of soup!  I made one of my absolute favorites – the Spanish kale and bean soup.  I made a couple of adjustments to the original recipe (and may make a couple more), but I researched the heck out of canning soup, beans, bean soup, and soups with meat, and I have had 8 pints of lovely, lovely soup.
I can hardly wait until I try a batch of chili!  Or even while chili!
And once again, it's time for the weekly menu plan.  Gosh, doesn't it seem like there's always so much going on?  I started to say "in the fall," but then I realized that there's a lot going on in the summer, too.  And the spring.  So I guess the only chance we get to really relax is in the winter, and even that's not without its share of busy-ness, either.
Monday -  You know about Groupon, right?  Well, Peeps and I try to get out periodically on Saturdays for lunch – it's cheaper, and going out for dinner gets late.  However, I have one that's expiring very soon, and we just weren't able to get there Saturday for lunch, they are closed Sundays, so Monday we're going out to a Korean place – and I'm very much looking forward to it!
Tuesday - We dug some veal chops out of the freezer – Peeps picked them up on sale a while back, so, rather than let them get lost in there, we'll go ahead and grill them while we can.  We have some sort of fries in the freezer and some fresh broccoli from the market.
Wednesday - You'll recall that I picked up a couple of nice squashes last week – time for soup!  I found this Roasted Butternut Squash Chowder that sounds quite nice – Peeps will start the squash roasting when he gets home from work, so the soup will be freshly made at dinnertime.

Thursday - Part of our never-ending project of emptying the freezer is to cook and eat the large hunks of meat that have made their way to the bottom of the freezer – this week it's roasted chicken with potatoes and the beets I pulled from the garden.  And for bonus points, we're going to take the the leftover chicken and mole it up for dinner over the weekend.
Friday - Friday pizza night - the tomatoes are done, though I did manage to make a micro-batch of roasted tomato sauce that went into the freezer – just enough for two meals for the two of us.  We may use that, or I may save it for the depths of winter.  I guess we'll see what kind of mood we're in, huh?
Be sure to click on over to The Organizing Junkie's Monday Menu Plan post for loads and loads of other ideas.
Posted by Toy Lady in Big Lug, Garden, meal plan monday, Musings.
comments closed
Can you believe it's JULY already?  I mean, where has the year gone?
I'm not going to lie – early summer is probably my favorite time of the year.  The snow is a distant memory, and it's too far until next fall to worry about it yet.   The garden is well-established, and there's the anticipation of my favorite veggies – soon, my pretties!  And, of course, what I'm not growing, someone else is – the public market is awash with gorgeous, fresh produce!  Lettuce, spinach, beets, broccoli, potatoes, and even mustard greens!
And it's time for the obligatory garden update – I've got itty bitty baby green beans!
I hope to be picking beans by the end of the week, though I can't seem to remember for sure exactly how long it takes from bean, um, infant to fully mature, pickable bean.  Not long, though – I do know that!
I love my little raised beds, both for the vegetable garden and for the herb garden – I think they set off the garden space, and they help keep the weeds out – some of them, anyway.
However, when we fenced in the back yard last year, we had the fence run right alongside the garden – I wanted to be sure there was enough room outside the fence for a lawnmower, a flower bed, whatever.
Unfortunately, short of constantly pulling the grass out by hand, there's just no way to keep it down in that little 4-inch strip between the garden and the fence.
Until I happened upon a sale on "landscape stones."
And the herb garden – well, I think that was poor planning on my part.  There's just not enough room between the house and the garden OR the deck and the garden for a lawnmower – which means Peeps has to carefully weed-whack in there, and that's no fun!
I went looking for some mulch to cover the ground in that little corner – I'm out there barefoot too often to want gravel – and we found the coolest thing red mulch made out of recycled tires!   It should last indefinitely (which evidently the biggest problem with old tires in the first place -they just can't get rid of them!) – though I have no idea where they found red tires!
Remember last week, we had that Linguine Frittata  from Health magazine?
And you know how the Boy works evenings now, so he misses dinner five nights out of seven?
Well, I got up the next morning to find a note on the chalkboard in the kitchen – I don't know if you can read it, but it says "frittata = Really good."
It was, in fact, really good, and I highly recommend it, but I really didn't expect that reaction to scrambled eggs, collard greens and pasta!
I had Peeps take a picture of this because I just had to show you just what a big old baby the Jar really is!
Usually, he waits until I've settled down to knit or watch TV or whatever – until he's certain I'm not going to get up – and then he'll come over and lie down on the floor next to the couch.
Fine.
And sometimes, I'll sit on the floor, and he'll come over and lie down next to me.
Awww.
But every once in a while, I'll sit down on the floor, and he'll come over and SIT ON MY LAP!
All 110 pounds of him!
Can anyone say "mama's boy?"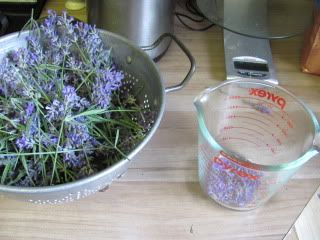 Oh, the mad crazy lavender from last week!
I picked it all – some of it was almost past its prime, and I didn't want to be screwing around with it too much, so it all went.
I picked it and stemmed it, and ended up with about 2 cups of cleaned blossoms.
I took a good handful and added it to some tea I was brewing for iced tea – it was just enough to add a hint of floral flavor – very nice, and I am definitely doing that again!
The rest, I steeped in some simple syrup, to be used for various things – I did make myself a glass of lavender soda (kind of like we did with the ginger ale, only with lavender syrup), and it was very good.  I'm probably going to use it in some ice cream or sorbet – I'm sure I'll be able to take advantage of at least a couple of the great suggestions I got last week!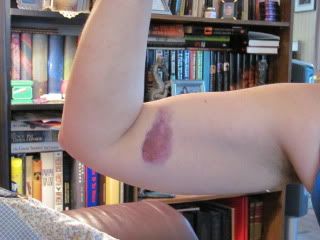 Oh, speaking of that idiot dog – he is going to be the death of me yet!
I took him to the beach Saturday, and we had a ball – he walked, he swam, he sniffed, we met a couple of new dogs, fun was had by all.
But when he's ready to go home, he's ready to go home Right Now!   He kind of shifts into low gear, and he heads for the car.  He doesn't really pull or drag me, but he's very. . . single-minded about it!
We got to the parking lot, and he was walking on one side of a low fence, while I was on the other, grassy side in my bare feet.  Keep in mind that we were walking along at a fairly good clip, watching for the car, when WHACK! he ran my arm right into a sign-post!
It looks worse than it feels – but it's a nice reminder for me to watch where I'm going, isn't it?
And once again, it's time for the weekly menu plan.  Peeps is on vacation this week (the Ravioli Shop is always closed the week of Independence Day), and, since the holiday falls on Wednesday, I'm taking Thursday and Friday off, as well.
The weather is looking stunningly summer-like (after all, it's JULY!) – we're looking forward to doing some grilling this week!
Monday - We were in Sam's Club last weekend, and we could not resist picking up a package of  wild Alaskan sockeye salmon – if it's good, we'll probably pick up more.  We'll do the fish with some compound butter (butter blended with some lovely, lovely fresh herbs) broccoli and brown rice.  How much healthier can we get?  (Well, except the butter, but hey, that's dairy!)
Tuesday - Now that the herb garden is in full swing (boy is it!) we're going to do an old favorite – pasta with tuna, walnuts, lemon and herbs – every year, we wait until the garden can handle it, and it's always SO SO GOOD!
Wednesday - Woo, it's the 4th of July!  After we read the Declaration of  Independence, I'm going to make a batch of my mother's potato salad, and we're going to do burgers, potato salad and tossed salad.  Yay.
Thursday - We're going to do the Glazed Chicken from the current Cooking Light, but, instead of their noodle salad, we're going to make our favorite cold sesame noodles, and we'll do mustard greens – that should be a nice contrast to the noodles.
Friday - Friday is, as always, pizza night - I have no idea if there will be anything leftover from the week to decorate my pizza with – if not, I'll probably go the "fresh herbs and olive oil" route.  It'll still be lovely.
Be sure to click on over to The Organizing Junkie's Monday Menu Plan post for loads and loads of other ideas.