Posted by Toy Lady in Big Lug, Food, Home, meal plan monday, Stupor Kitty.
comments closed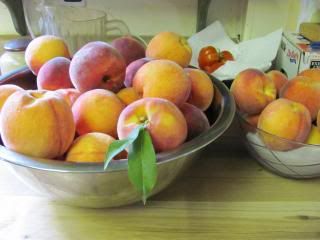 Holy cow it's peach season!  Where has the summer gone?
And how do we know that, you ask?  Well, besides fantastic local Red Haven peaches I picked up at the public market last week (and they were spectacular!), I received an email on Saturday from my local pick-your-own farm  letting me know that peaches are ripe and ready.
What's a gal to do but pack up her husband and drag him out to the farm first thing Sunday?
I was very restrained, though, I think.  I only ended up with 17 and a half pounds  - which took about 10 minutes to pick.
They are SO good, too!
Peaches aren't the only fresh fruit we're enjoying – oh no!
We were home Saturday afternoon, and I took the opportunity to enjoy my all-time favorite lunch in the whole world – a BLT!  Peeps has been baking some fantastic bread lately -which, as it happens, toasts up beautifully, and there's  not much that can beat his homemade bacon.  Add some nice bibb lettuce, homemade mayo and of course, the star of the show, a couple of slices of fresh Jetstar tomato, and I have a happy, happy lunch!
Old Jarly is having a bit of trouble deciding whether he wants to chew on his bone, or if he wants to come inside.  He can't do both – bones are outside toys.
We spent half of Sunday afternoon trying to get that through to him – he'll bark to come in, so one of us opens the door for him, then he picks up the bone and we tell him "no bone" and shut the door.  So he drops the bone, we open the door again, and he picks it up again.
That game gets old really quick, let me tell you!
Meanwhile, the cat is out prancing around the house, and every time it looks like the dog may come in (that would be something like every five minutes), she makes herself scarce, only to come back out and pester me as soon as he's out of sight and earshot.
No wonder I never get anything done!
And once again, it's time for the weekly menu plan.  It looks like "Hey! Summer's back!" around here – temperatures and humidity increasing through the end of the week.  We don't mind that too much – both my office and the house are air-conditioned, and we'll probably plan a quick morning beach trip to keep Jar well-exercised.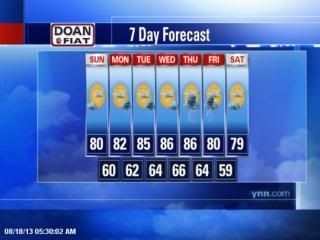 Monday - We roasted that chicken last week (and it was very good!) – some of the breast meat is going to go nicely with a grilled caesar salad – basically, you take a romaine heart, cut it in half, brush it with dressing and slap it on the grill, cut-side down.   We also like to slice already-cooked chicken and grill that the same way to gently reheat it.  A perfect light dinner!
Tuesday - We got the September issue of Cooking Light last week, and there's this big section on short-cut meals – healthy meals using prepared foods.  At first, I sort of flipped past that section (Prepared foods?  Really?) but then Peeps pointed out this hummus and rice fritter recipe.  We would certainly try that!
Wednesday - We picked up a sirloin tip last week – that got divided and stuck in the freezer for future burgers and the like.  Well, it's the future, and we're doing burgers.  We're going to finish up some baked beans, too, and I think I want to make this beet salad to go with it – if I get to it.  Or maybe we'll have peaches and tomatoes.

Thursday - Peeps made tacos for last weekend – so what's better for Minimal Effort Thursday than more tacos – when everything's already done?
Friday - We do love pizza night around here – ESPECIALLY during tomato season! Last week's eggplant sauce was mostly a success – though next time I'll double the amount of eggplant.  However, the remainder of the sauce is now in the freezer – we'll use that when we don't have fresh tomatoes to slice up.  I may sacrifice some of the pathetic basil for pizza – I don't know what's wrong with it this year, but it's not doing well.  Probably should just use it up, huh?
Be sure to click on over to The Organizing Junkie's Monday Menu Plan post for loads and loads of other ideas.
Posted by Toy Lady in Big Lug, canning, meal plan monday, Musings, random stuff, Stupor Kitty.
Tags: monday meal plan
comments closed
Well, the garden is pretty much tucked in for the fall.  It's kind of a sad day, isn't it?  They were forecasting a "killing frost" for Friday night, which, apparently didn't happen.  Or maybe it did – it's hard to tell.  Peeps had frost on the top of his car Saturday morning, but not on the windshield.  And the late row of green beans seems to be unscathed, yet of two baby "volunteer"  tomato plants I found, one was brown and shriveled (frosted for sure!) and the other, just inches away from it, was at least partially sheltered by ridiculous kale leaves, was as good as new.  (Until I pulled it up.)
Our one row of garlic is in, the kale will be good until . . . whenever it gets used, and the komatsuna should be okay at least as long.
So we were out shopping this weekend, and Peeps pointed out that we didn't have anything sweet in the house.
Now, while that is probably a good thing in the long run, we've grown to enjoy something dessert-like in the evenings, without actually committing to, say, baking anything.
We came across this new candy – it's called Unreal.  The idea is that it's better for you than "regular" candy in that it's got more real ingredients and NONE of the objectionable ingredients – no corn syrup, no artificial colors or flavors, no hydrogenated oils, and no GMOs.
Basically, it's hippy candy.  But it's really, really good hippy candy.  If you see it available, do give it a try.  Really.  You'll thank me.
So we've been working on Puppy-Kitty Tolerance – and boy, is that fun!
Basically, after I get back from our morning walk, the dog gets fed, and the cat gets a little one-on-one treat time with me.
Then, when the dog's done with his breakfast, he comes out to the kitchen and lies down next to me while the cat skitters away.
However, the magic of chicken, pork and hot dogs will lure her back, even to within a tongue's length of the Big Scary Dog that she goes out of her way to annoy.
The two of them take turns having treats, and I've been getting them closer and closer together.  I even got Peeps to play along!
Besides the whole treat thing, the two of them are becoming ever-so-slightly more tolerant of each other – the Kitty will come out and prance around the the living room and dining room, and the dog will pretty much ignore her as long as she doesn't start whining to be fed.
It's something. . .
Poor Jar – every time I set up his pills, I marvel at just how much "stuff" he's on!
Mostly it's because of his joints – he's on MSM supplements (from the horse aisle) and glucosamine supplements twice a day, plus the meloxicam (his miracle drug) once, and antacids with it because it tends to cause nausea.
And he's still on the Prozac, too – we've actually increased it a bit, so now he gets the big pill in the morning and the smaller on in the evening.
I feel like a pharmacist sometimes. . .
Oh, exciting news!
For the very first time EVER I canned a batch of soup!  I made one of my absolute favorites – the Spanish kale and bean soup.  I made a couple of adjustments to the original recipe (and may make a couple more), but I researched the heck out of canning soup, beans, bean soup, and soups with meat, and I have had 8 pints of lovely, lovely soup.
I can hardly wait until I try a batch of chili!  Or even while chili!
And once again, it's time for the weekly menu plan.  Gosh, doesn't it seem like there's always so much going on?  I started to say "in the fall," but then I realized that there's a lot going on in the summer, too.  And the spring.  So I guess the only chance we get to really relax is in the winter, and even that's not without its share of busy-ness, either.
Monday -  You know about Groupon, right?  Well, Peeps and I try to get out periodically on Saturdays for lunch – it's cheaper, and going out for dinner gets late.  However, I have one that's expiring very soon, and we just weren't able to get there Saturday for lunch, they are closed Sundays, so Monday we're going out to a Korean place – and I'm very much looking forward to it!
Tuesday - We dug some veal chops out of the freezer – Peeps picked them up on sale a while back, so, rather than let them get lost in there, we'll go ahead and grill them while we can.  We have some sort of fries in the freezer and some fresh broccoli from the market.
Wednesday - You'll recall that I picked up a couple of nice squashes last week – time for soup!  I found this Roasted Butternut Squash Chowder that sounds quite nice – Peeps will start the squash roasting when he gets home from work, so the soup will be freshly made at dinnertime.

Thursday - Part of our never-ending project of emptying the freezer is to cook and eat the large hunks of meat that have made their way to the bottom of the freezer – this week it's roasted chicken with potatoes and the beets I pulled from the garden.  And for bonus points, we're going to take the the leftover chicken and mole it up for dinner over the weekend.
Friday - Friday pizza night - the tomatoes are done, though I did manage to make a micro-batch of roasted tomato sauce that went into the freezer – just enough for two meals for the two of us.  We may use that, or I may save it for the depths of winter.  I guess we'll see what kind of mood we're in, huh?
Be sure to click on over to The Organizing Junkie's Monday Menu Plan post for loads and loads of other ideas.
Posted by Toy Lady in Big Lug, meal plan monday, random stuff, Stupor Kitty.
comments closed
This was a market weekend for me, and, though I've been doing so well lately at not going overboard, this week, well, I couldn't help myself!
I mean – freshly pressed cider (from the end of last year's apples, I'm sure, but still!), gorgeous leeks (for $2 a bunch!), kale (watch for that to appear on next week's menu) and escarole, not to mention ground lamb (I never see that!), and, best of all, the first of the ramps!
Sometimes, I just wish someone would smack me upside the head and be done with it!
Do you have any idea how long I've been buying fresh greens, washing them, sticking them in big old Tupperware bowls, and filling the refrigerator with them?
Yes, I know, they keep better unwashed, BUT they're more likely to get used if they're already cleaned, so there's that.
But do you know how much easier it is to just wash the buggers and stuff them in a zip-top bag?  And, most importantly, how much less refrigerator space they use?
*smack*
I've still got the Christmas tree in the window- not decorated of course (never mind about the wreath), plus an amaryllis, Christmas cactus (yes, it's still kind of blooming) and a couple of coffee-bean plants.
Poor kitty – when she wants to sun herself in the garden window, she has to squeeeeze between the greenery.
Though I think she kind of likes playing "jungle kitty," don't you?
Jar's been running a little low on bones lately.
I find that we do best when I buy a BIG bag of them at the market, then wrap them individually in plastic wrap.
The individual bones then get stashed in a bag in the freezer.  Wrapping them separately makes it SO much easier to just pull one out – and I give them to him frozen (unwrapped first, of course).
Jarly doesn't mind a little frost on his treat.
Of course, when I bring the bones home, they're unfrozen.
You know what that means, right?
I walk into the house with a bag full of fresh, raw meat and bones, and Mr. Nosy McSniffypants won't leave me alone until he gets one!
Honestly, that dog follows me from the front door through the house into the kitchen – with his nose INSIDE the bag that's got the bones in it (which makes for more than a little awkwardness when it comes to trying to walk!).
While Jar was outside enjoying his bone, I took the opportunity to fill his Friday Night Kongs – I stir together a cup of kibble with a can of Mighty Dog, then stuff the mixture into the two Kongs, cover them, and shove them in the freezer.  (Freezing the Kong toy slows him down a bit.)
While I was doing that, the Kitty came out and made such a PEST of herself that I finally just let her lick the can.
I didn't have the heart to tell her that no, that wasn't chopped up actual dogs in there.
Before I forget, I wanted to mention that I'd heard from Jarly's  swim guy – he's been down with an injury for a few months now, and he's finally gotten the green light to back to swimming dogs!  We're so happy for him – and for all his charges!
He's starting small right now – hopefully we'll be able to get Jar back in the water before too long!
And once again, it's time for the weekly menu plan.  After an utterly fantastic week, weather-wise anyway, I guess we're back to March.  Not that I'm complaining – March is a million times better than February!
Monday - Although the weather has cooled off, now that we've fired up the grill, we're, well, fired up about it.  When I saw the ground lamb at the market this weekend, I knew this would be a good time for some knock-off gyros – we may stand in front of the grill shivering, but so be it.  I can't let the fresh ground meat languish in the fridge any longer.
Tuesday - Tuesday actually looks to be slightly warmer than Monday, so we're going to grill pork chops.  Not sure yet how, or what we'll do with them, but there'll be pork chops, anyway.  Maybe something sweet potato-y.
Wednesday - Since I just couldn't resist a 75-cent head of escarole, and I still have some "fresh" (grown last fall, anyway) dried kidney beans, I decided I wanted to do some sort of "beans and greens" – after all, we have greens, and we have beans, so. . . I found this Crunchy & Creamy Beans & Greens – obviously, I'll be using kidney beans instead of white beans, and escarole instead of chard, but other than those substitutions (you know, the, um, beans and the greens) it should be pretty much the same as written.
Thursday - We had leftover chicken knocking around in the freezer, plus loads of corn from last season to use up.  When I got this recipe for Chinese Chicken & Corn Soup in my email the other day, well, I was All Over It!
Friday - And that brings us back to pizza night - last week's pie with the leftover bacony chicken and barbecue sauce was nothing short of fantastic.  It's going to be a tough act to follow!
Be sure to click on over to The Organizing Junkie's Monday Menu Plan post for loads and loads of other ideas.