Posted by Toy Lady in Big Lug, meal plan monday, Musings, random stuff, Stupor Kitty.
6 comments
Boy, it's been a long, cold week, hasn't it?
And clearly, The Jar is suffering from cabin fever, just like the rest of us!
Poor thing – he wants to go out and WALK and even RUN!  Then we get outside, and before we know it, his little (big) feet are cold and he's walking funny and he's ready to come IN.
He's spent a good portion of a couple of evenings trying to get us to play ball with him – in the living room.  Now I don't know about your house, but mine is far too small to have a 115-pound beast gallumping around chasing a tennis ball. That's how houses get broken!  So he eventually settled for picking the yellow fuzz off the tennis ball instead.
I keep saying – it's just like having a giant furry toddler in the house.
(And yes, we took him out to get weighed last week - someone is going to need to drop a few pounds, I think.  Someone else, that is.)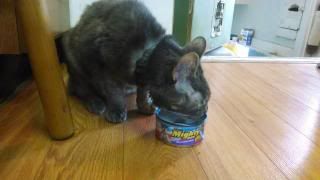 And the kitty has finally done it – she's broken the Kitty Code.
When we finally got a couple of hours of above-freezing temperatures Saturday, I took the opportunity to fill Kongs – it's amazing how much easier that is when you don't have someone trying to shove his big furry nose on the counter and barking his fool head off at you because he WANTS SOME RIGHT NOW.
Of course, I've got furry little meowing going on instead.  So. . . I let her lick the can.  That would be the Mighty Dog can.  Then I took a picture of her with her face in the dog food can.  Ha.
It's been just about 3 months since we've switched Jarly to a raw diet, and, overall, I have to say, we're very happy with it.
We haven't seen any sign of any of the stomach issues he's suffered in the past, which is great.  And he's pretty much always had a rash on his stomach, which got a little better when we changed kibble, and better yet when we cut out peanut butter, but it's always still been there.  Now it's completely gone.
Now that we've found several decent sources of meat, it's actually much cheaper than kibble too – and, additionally, kibble itself has become something of a treat!
The only downside?  Raw liver.  (Actually, organ meat in general.)  Do you have any idea how awkward (and disgusting) it is to cut up a 20-pound beef liver?
The things we do for our pets, eh?
And once again, it's time for the weekly menu plan.   We seem to have fallen in a bit of a rut when it comes to dinner – I don't know what's going on.  Winter blues, maybe.  Some days, if I didn't already have the meal plan, I swear, I'd just scramble a couple of eggs and call it dinner.  Not that there's anything wrong with that . . . but then what would we do for breakfast?
Monday -Our local supermarket had Alaskan cod on sale, AND I have fennel in the fridge, so we're going to try cod with fennel and potatoes.  Should be interesting, no?
Tuesday - Since we made a big old pot of sauce last weekend, it was a no-brainer to make a big old pan of lasagna this weekend, right?  That's all made and ready to just pop in the oven when I get home.  Then it's leftovers for breakfast, too!
Wednesday - We managed to separate those two pork chops I got at the market last weekend, so we're going to split one of them between us – the other went back in the freezer.  The chop is about 2 inches thick, and I'm going to cook them basically the way Alton Brown did rib-eye steaks on Good Eats – pan-seared, then finished in the oven.  We'll do baby potatoes and beet rösti, which I LOVE.
Thursday - For Minimal Effort Thursday, we've got some beef and barley soup up.  I used a couple of boneless short ribs in the soup, and I kind of (ahem) beefed up the flavor with some chopped mushrooms.  While neither of us is a fan of mushrooms on their own (the texture is weird), I chopped them chopped fine and cooked them until they all but disappeared – they add the hearty flavor without the icky texture.
Friday - And again, it's pizza night.  You'll recall that we had lasagna earlier in the week, which means leftover ricotta filling.  I just can't seem to get it even!  Either I have too much sauce and run out of filling, or too much filling and run out of sauce, or, as in this case, too much lasagna and ran out of pan!  Anyway, we already know that ricotta filling on pizza is delicious, so it's not such a bad thing to have some left over!
Be sure to click on over to The Organizing Junkie's Monday Menu Plan post for loads and loads of other ideas.
Posted by Toy Lady in Big Lug, Food, Home, meal plan monday, Stupor Kitty.
comments closed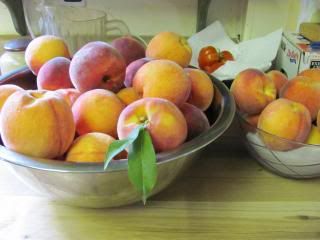 Holy cow it's peach season!  Where has the summer gone?
And how do we know that, you ask?  Well, besides fantastic local Red Haven peaches I picked up at the public market last week (and they were spectacular!), I received an email on Saturday from my local pick-your-own farm  letting me know that peaches are ripe and ready.
What's a gal to do but pack up her husband and drag him out to the farm first thing Sunday?
I was very restrained, though, I think.  I only ended up with 17 and a half pounds  - which took about 10 minutes to pick.
They are SO good, too!
Peaches aren't the only fresh fruit we're enjoying – oh no!
We were home Saturday afternoon, and I took the opportunity to enjoy my all-time favorite lunch in the whole world – a BLT!  Peeps has been baking some fantastic bread lately -which, as it happens, toasts up beautifully, and there's  not much that can beat his homemade bacon.  Add some nice bibb lettuce, homemade mayo and of course, the star of the show, a couple of slices of fresh Jetstar tomato, and I have a happy, happy lunch!
Old Jarly is having a bit of trouble deciding whether he wants to chew on his bone, or if he wants to come inside.  He can't do both – bones are outside toys.
We spent half of Sunday afternoon trying to get that through to him – he'll bark to come in, so one of us opens the door for him, then he picks up the bone and we tell him "no bone" and shut the door.  So he drops the bone, we open the door again, and he picks it up again.
That game gets old really quick, let me tell you!
Meanwhile, the cat is out prancing around the house, and every time it looks like the dog may come in (that would be something like every five minutes), she makes herself scarce, only to come back out and pester me as soon as he's out of sight and earshot.
No wonder I never get anything done!
And once again, it's time for the weekly menu plan.  It looks like "Hey! Summer's back!" around here – temperatures and humidity increasing through the end of the week.  We don't mind that too much – both my office and the house are air-conditioned, and we'll probably plan a quick morning beach trip to keep Jar well-exercised.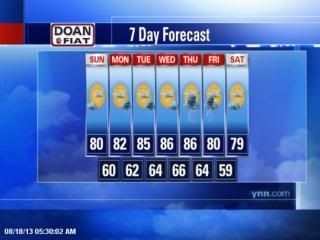 Monday - We roasted that chicken last week (and it was very good!) – some of the breast meat is going to go nicely with a grilled caesar salad – basically, you take a romaine heart, cut it in half, brush it with dressing and slap it on the grill, cut-side down.   We also like to slice already-cooked chicken and grill that the same way to gently reheat it.  A perfect light dinner!
Tuesday - We got the September issue of Cooking Light last week, and there's this big section on short-cut meals – healthy meals using prepared foods.  At first, I sort of flipped past that section (Prepared foods?  Really?) but then Peeps pointed out this hummus and rice fritter recipe.  We would certainly try that!
Wednesday - We picked up a sirloin tip last week – that got divided and stuck in the freezer for future burgers and the like.  Well, it's the future, and we're doing burgers.  We're going to finish up some baked beans, too, and I think I want to make this beet salad to go with it – if I get to it.  Or maybe we'll have peaches and tomatoes.

Thursday - Peeps made tacos for last weekend – so what's better for Minimal Effort Thursday than more tacos – when everything's already done?
Friday - We do love pizza night around here – ESPECIALLY during tomato season! Last week's eggplant sauce was mostly a success – though next time I'll double the amount of eggplant.  However, the remainder of the sauce is now in the freezer – we'll use that when we don't have fresh tomatoes to slice up.  I may sacrifice some of the pathetic basil for pizza – I don't know what's wrong with it this year, but it's not doing well.  Probably should just use it up, huh?
Be sure to click on over to The Organizing Junkie's Monday Menu Plan post for loads and loads of other ideas.
Posted by Toy Lady in Big Lug, canning, meal plan monday, Musings, random stuff, Stupor Kitty.
Tags: monday meal plan
comments closed
Well, the garden is pretty much tucked in for the fall.  It's kind of a sad day, isn't it?  They were forecasting a "killing frost" for Friday night, which, apparently didn't happen.  Or maybe it did – it's hard to tell.  Peeps had frost on the top of his car Saturday morning, but not on the windshield.  And the late row of green beans seems to be unscathed, yet of two baby "volunteer"  tomato plants I found, one was brown and shriveled (frosted for sure!) and the other, just inches away from it, was at least partially sheltered by ridiculous kale leaves, was as good as new.  (Until I pulled it up.)
Our one row of garlic is in, the kale will be good until . . . whenever it gets used, and the komatsuna should be okay at least as long.
So we were out shopping this weekend, and Peeps pointed out that we didn't have anything sweet in the house.
Now, while that is probably a good thing in the long run, we've grown to enjoy something dessert-like in the evenings, without actually committing to, say, baking anything.
We came across this new candy – it's called Unreal.  The idea is that it's better for you than "regular" candy in that it's got more real ingredients and NONE of the objectionable ingredients – no corn syrup, no artificial colors or flavors, no hydrogenated oils, and no GMOs.
Basically, it's hippy candy.  But it's really, really good hippy candy.  If you see it available, do give it a try.  Really.  You'll thank me.
So we've been working on Puppy-Kitty Tolerance – and boy, is that fun!
Basically, after I get back from our morning walk, the dog gets fed, and the cat gets a little one-on-one treat time with me.
Then, when the dog's done with his breakfast, he comes out to the kitchen and lies down next to me while the cat skitters away.
However, the magic of chicken, pork and hot dogs will lure her back, even to within a tongue's length of the Big Scary Dog that she goes out of her way to annoy.
The two of them take turns having treats, and I've been getting them closer and closer together.  I even got Peeps to play along!
Besides the whole treat thing, the two of them are becoming ever-so-slightly more tolerant of each other – the Kitty will come out and prance around the the living room and dining room, and the dog will pretty much ignore her as long as she doesn't start whining to be fed.
It's something. . .
Poor Jar – every time I set up his pills, I marvel at just how much "stuff" he's on!
Mostly it's because of his joints – he's on MSM supplements (from the horse aisle) and glucosamine supplements twice a day, plus the meloxicam (his miracle drug) once, and antacids with it because it tends to cause nausea.
And he's still on the Prozac, too – we've actually increased it a bit, so now he gets the big pill in the morning and the smaller on in the evening.
I feel like a pharmacist sometimes. . .
Oh, exciting news!
For the very first time EVER I canned a batch of soup!  I made one of my absolute favorites – the Spanish kale and bean soup.  I made a couple of adjustments to the original recipe (and may make a couple more), but I researched the heck out of canning soup, beans, bean soup, and soups with meat, and I have had 8 pints of lovely, lovely soup.
I can hardly wait until I try a batch of chili!  Or even while chili!
And once again, it's time for the weekly menu plan.  Gosh, doesn't it seem like there's always so much going on?  I started to say "in the fall," but then I realized that there's a lot going on in the summer, too.  And the spring.  So I guess the only chance we get to really relax is in the winter, and even that's not without its share of busy-ness, either.
Monday -  You know about Groupon, right?  Well, Peeps and I try to get out periodically on Saturdays for lunch – it's cheaper, and going out for dinner gets late.  However, I have one that's expiring very soon, and we just weren't able to get there Saturday for lunch, they are closed Sundays, so Monday we're going out to a Korean place – and I'm very much looking forward to it!
Tuesday - We dug some veal chops out of the freezer – Peeps picked them up on sale a while back, so, rather than let them get lost in there, we'll go ahead and grill them while we can.  We have some sort of fries in the freezer and some fresh broccoli from the market.
Wednesday - You'll recall that I picked up a couple of nice squashes last week – time for soup!  I found this Roasted Butternut Squash Chowder that sounds quite nice – Peeps will start the squash roasting when he gets home from work, so the soup will be freshly made at dinnertime.

Thursday - Part of our never-ending project of emptying the freezer is to cook and eat the large hunks of meat that have made their way to the bottom of the freezer – this week it's roasted chicken with potatoes and the beets I pulled from the garden.  And for bonus points, we're going to take the the leftover chicken and mole it up for dinner over the weekend.
Friday - Friday pizza night - the tomatoes are done, though I did manage to make a micro-batch of roasted tomato sauce that went into the freezer – just enough for two meals for the two of us.  We may use that, or I may save it for the depths of winter.  I guess we'll see what kind of mood we're in, huh?
Be sure to click on over to The Organizing Junkie's Monday Menu Plan post for loads and loads of other ideas.